SALT LAKE CITY — Community means strength that joins our strength to do the work that needs to be done. Arms to hold us when we falter. A circle of healing. A circle of friends. Someplace where we can be free. – Starhawk
For the Flamm family, it was the Utah community that pulled them through one of the most difficult times of their lives.
On August 28, 2009, Amanda Flamm delivered her second child by emergency C-section 11 weeks premature. Austin, weighing 4 pounds and 8 ounces at birth, spent the next month in the NICU.
"(It was) a month I will never forget, a month that some days I didn't think I could physically or emotionally make it through," Amanda wrote in a blog. "It was difficult to leave my brand new, tiny, helpless baby in a cold hospital. Of course I knew he was in good hands, but I was his mother. The problem was I needed to be the mother of Amelia as well. She seemed to be struggling with the adjustment of sharing my time."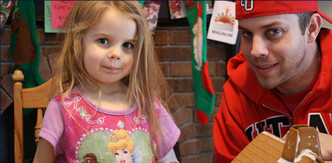 Thirty-one days later, Austin was finally able to go home. But just as Austin was recovering, their daughter Amelia (Millie) started complaining about her legs hurting and constantly being tired.
Just a few weeks later, the Flamm family took Millie in for a blood test and received horrific news – their daughter was diagnosed with Leukemia.
Over the last year and a half, through countless doses of chemotherapy, the outlook for Millie is good. However, the bills started to stack up for the young family.
A good friend of the Flamms, Brian Verhaaren, saw the financial burden that was placed on the family and wanted to help out. Verhaaren, who built RealCove.net, a Salt Lake City based website development company, took the initiative and created "Meet Millie", a website asking for $10,000 in donations to help cover the costs of Amelia's battle against cancer.
Christopher Evans, webmaster and owner of a popular Utah Utes message board fan site, was approached by Verhaaren about promoting the "Meet Millie" website. Evans later posted the fundraising information on utefans.net, and on the first day they raised over $5,000 for the family.
"$5,547 raised in a single day on Utefans.Net for a little 3-year old Ute fighting Leukemia," Evans posted on Facebook. "That is just amazing. Visit the site to donate. We're shooting for $10K. Go Utes!!!".
The Flamm family reached their $10,000 goal just 35 hours after Evans posted the link. But it wasn't just Ute fans that donated, as fans from new Pac-12 conference foes UCLA, Colorado, USC and Cal all pitched in. Even Cougar and Aggie fans joined the cause.
"Thanks to Utezone.com and all the Ute, Cougar, and Aggie fans who helped push us over the $10,000 mark for Operation: Millie," Evans posted on Facebook after the goal was reached. "You are all amazing people!"
Millie's father, Brady, posted a thank you to everyone that donated on Evans' website. "I will never forget the past two days, and I have never been so proud to be a Utah fan. The donations have honestly blown us away. But even more than the money, the many kinds words written here have lifted our spirits."
So far, the utefans.net has helped raise $12,215. To donate to the Flamm family and Millie's battle against Leukemia, click here.
Email: rojackson@ksl.com
Twitter: @rojackKSL