COTTONWOOD HEIGHTS — Like many young girls, Millie Flamm loves Justin Bieber. Unlike most, Millie is battling leukemia.
The 7-year-old was first diagnosed with cancer three years ago. On the day she was supposed to be finished, the family got a call: the cancer had returned.
Millie entered treatment again about half a year ago, and her parents decided she needed something to look forward to. So they bought her tickets to Justin Bieber's concert in Salt Lake City on Saturday night.
"He's her favorite singer," said her father, Brady Flamm. "She has a handful of his CD's and has seen his movie a few times, but she really loves to sing his songs. Her favorite song … is 'Baby.' She and her little brother sing in the car, the hospital, wherever we are. She loves that song."
The family looked forward to attending the concert with a healthy Millie until two weeks ago, when they got bad news: Millie had relapsed. She had to start her treatment from the beginning, which meant no Bieber concert.
"She fought tears; she was sad," her father said. "We had to sell the tickets."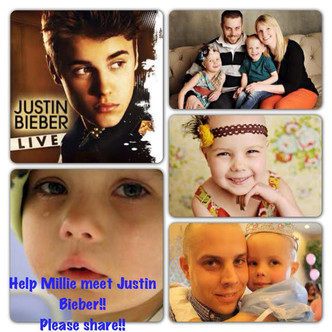 A family friend had something else in mind, though, and on Friday started a social media campaign to get the pop star to visit Millie. If she couldn't go to the concert, the star would come to her.
"It took on a life of its own," Flamm said. "Everyone started sharing it. People who knew people who knew Justin Bieber started trying to get in touch with his people. It just went crazy."
Millie doesn't know about the campaign yet, but friends can hope Bieber follows past precedent: A February social media campaign urging Bieber to meet a 6-year-old known nationwide as "Mrs. Bieber" was successful. The star met with Avalanna Routh, a brain cancer patient, and called the meeting "one of the best things I have ever done."
Flamm said meeting Bieber "would really cheer (Millie) up so much. She absolutely loves him."
Stephanie Grimes – KSL